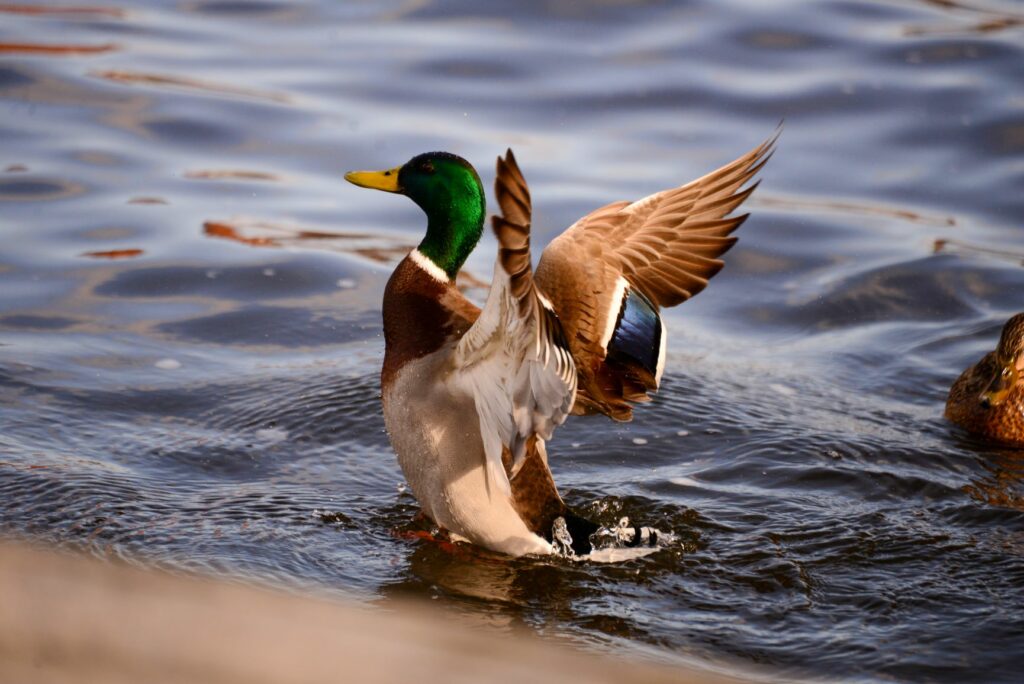 Be like a duck. This is something I've taught my children from a very young age. I realized this week it's something I wasn't doing myself. Ducks live in the water, and in the sky. They are a bird that swims but also flies. They have a special oil on their feathers that prevents water from absorbing and weighing them down. This oil is a protection for the bird, as there are many more dangers to them on the ground and in the pond than there are in the sky. They need the ability to take flight at a moment's notice!

When I tell my children to be like a duck I mean, be sure to daily coat yourself in the oil of joy that comes from God. The oil comes from spending time daily in His Word and building your own personal relationship with Him through prayer and worship. Keep your lamps full, and your feathers coated so when it's time to take off, you are not weighed down by the things of this world and you can fly wherever God is calling you. I've been telling my children this for years, but this week I realized I haven't been doing this consistently. I've let the murk and yuck from the world seep in and weigh down my own feathers. This question began to echo in my mind, "How can I teach them to fly, if I'm so weighed down, that I can't get off the ground?"
Be Set Apart
I'm talking metaphorically of course. I"m not actually flying in the sky, but when it comes to following Jesus and going where He has called, we have to keep our mind, will, and emotions light. Following Jesus requires us to stay somewhat unattached to the world so we can say Yes to Him when he calls. Like the disciples who dropped their fishing nets and followed when He called to them. We too must be willing to leave some things behind in order to step into our destiny and become fishers of men. How do we do this? How do we live in the world, but not be of the world as scripture warns us in Romans 12:2.
"Do not conform to the pattern of this world, but be transformed by the renewing of your mind. Then you will be able to test and approve what God's will is–His good, pleasing and perfect will."

We live in this world, but we don't have to look like this world. We are called to be, set apart from the world. It is easy to let the hurts, disappointments, and temptations of this world soak in and weigh us down. We need the protective oil coating us so we have take flight. This is our home (for now) and it is hard to live here and keep a Heavenly perspective. We live with broken people in a broken world in need of Jesus, but if we don't keep our feathers coated with oil the yuck and sin will weigh us down and prevent us from flying.
Let it Roll
Ducks live in ponds, that are not always the cleanest of water. It can be murky, dirty, have trash floating in it, and ducks will swim there. But they don't let that murky water soak in. It rolls off their backs allowing them to fly at a moment's notice. When I talk to my kids and tell them to be like ducks and let the water roll off, most of the time it's in reference to an offense. Often, our first response when unkind words are spoken is to take offense. We can't take flight if we're heavy from holding offense in our hearts. It will lead to anger and bitterness over time. What we need, and even more exciting, what God desires for us, is that we will be light and free. Not held back by the bondage of sin, hurt, bitterness, and offense.
It's not as hard as you may think to dry off your feathers, apply oil, and prepare to take flight, but it does take acknowledging that there is a problem. SO shake off that murky water, dry your feathers, and get ready to take flight! Soar into what God created you to do. Get that good protective oil. Apply it to the feathers of your heart, and soar!